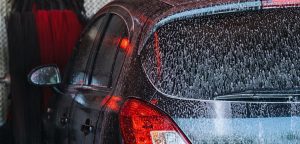 Reconditioning the interior and exterior of our car is what a car wash typically involves. A car wash is meant to keep your car looking spotless. It also includes waxing that helps make your car almost brand new, and it eliminates swirl marks or scratches, thereby restoring the paintwork. A typical car wash encompasses washing, waxing, vacuuming, deep cleaning, external detailing, and internal detailing. It may also include exterior paint polishing, waxing, headlight restoration, shampooing carpets, and deep engine cleaning.
If you think finding a good car wash is a piece of cake, think again. Often, this can prove to be a frustrating and seemingly endless process. You might not believe it, but finding car washes that offer excellent cleaning services can be an arduous task.
Choosing a good car wash is essential not just for the sake of your car's external look, but also because it can play a determining factor in your vehicle's performance. If you are the type of person who googles 'Best Car Wash Near Me' and heads to the nearest one on the list, it is recommended that you put an end to this practice because this course of action comes with the strong possibility of you ending up at a bad car wash. There are several people out there who have had a bad car wash experience. So, if you don't want to be part of that crowd, follow these tips to save yourself the heartbreak.
It is highly recommended that you head for a car wash that uses the latest in modern technology to clean your car. Since different vehicles and drivers have different needs, select a car wash that caters best to your needs. Before you settle on a car wash, it is essential to first decide what your budget permits, how much time you want to invest in washing your car, and the importance of the resale value of your vehicle. These three things are important because the options you exercise regarding the maintenance and care of your car will directly affect its performance and value retention. The following are some of the services you can expect to find at most car washes:
Full Exterior Wash
Automatic Car Wash
Interior Cleaning
Sanitization
Detailing Service
It is advisable to choose a car wash service that is also a reputed quality car wash product provider. This enables you to get access to a variety of world-class soaps and chemicals. Such car washes are generally more environment-friendly since they have the means and expertise to safely dispose of waste.
Because advanced equipment has made the car washing process an example in precision and zero error, it is worthwhile to visit an establishment that uses the best technology has to offer. A touchless car wash can ensure a scratch-free car cleaning experience. This method relies on strong detergents and high-pressure washers to clean your vehicle instead of the more traditional brush, foam, or cloth applicators. Thus, the possibility of damage due to scratches is greatly reduced. Touchless car washes can get rid of large clumps of dirt and debris and do an excellent job of cleaning the car. They are also an efficient way to get magnesium chloride or road salt rinsed off of your car. It is suggested that you personally check out the equipment going to be used on reaching the car wash. If the brushes or the cloth applicators are laden with dirt, it would be a good idea to reject that particular car wash because your vehicle could end up with scratch marks.
If you are looking for a cost-effective, efficient and reliable car wash in Abu Dhabi, head straight to Express Auto Wash. We use American technology to have your car looking brand new in under five minutes.
If you think the services we provide are going to cost you the sun and the moon, rest assured that our prices are most affordable. So, what are you waiting for? Head to Express Auto Wash and give your vehicle the royal treatment it deserves.