Abu Dhabi's Most Exciting Car Wash Center
If your car doesn't shine like it should, bring it down to express auto wash!
Express Auto Wash is a quick, fast, and no-wait car wash service based out of Abu Dhabi. Established in 2017, Express Auto Wash is a group of automobile enthusiasts who believe that the crowded, unorganized car wash segment needs a radical shift.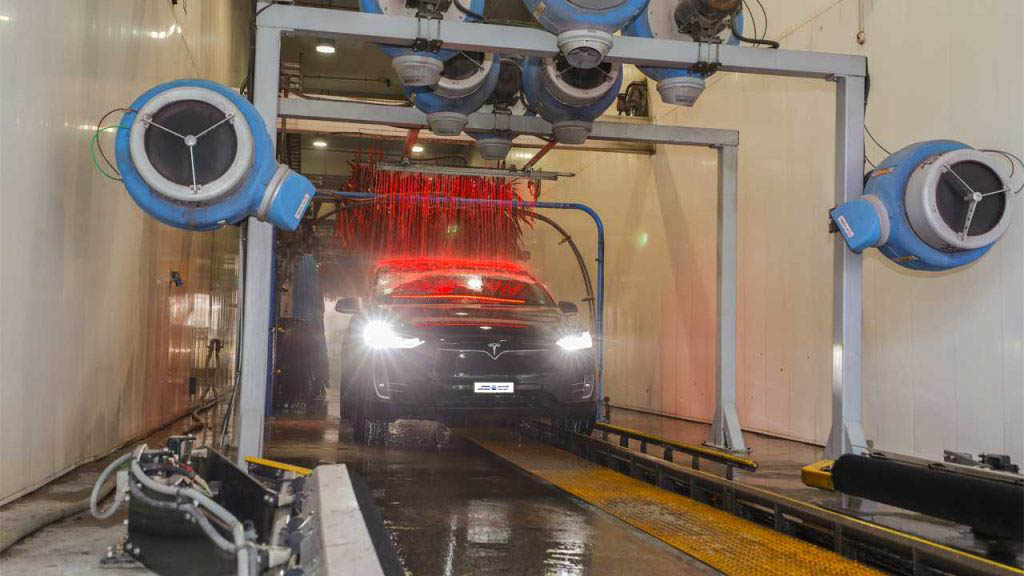 As car enthusiasts ourselves, we were also fed up with long queues for a decent car wash. The no-wait car wash at Express Auto Wash was founded with the motive to eliminate this experience from our society. After all, we invested a lot in the research and technology for this seamless car wash experience for the car owners in Abu Dhabi. We visited the top-notch American car wash facilities to learn how they serve their customers, which products they use, what equipment they have in their facilities. We implemented similar or higher quality equipment here in our Abu Dhabi facility and started with the no-wait, quick car wash that cleans your car in just 5 minutes.
Basically, the idea of a quick car wash started from the problems we faced or many of the citizens in Abu Dhabi were facing. We decided to take the matters into our hands where we decided to offer quality car cleaning services along with saving the environment and water. Express Auto Wash uses imported equipment from the United States that is eco-friendly, non-toxic, and biodegradable. Our well-trained team of professional cleaners and quality inspectors use a touchless cleaning system that works with minimum water.
Don't worry, this eco-friendly car cleaning service is affordable too. We charge reasonably for your car cleaning and detailing that too in minimum time. We have poured ourselves into making Express Auto Wash a reality, to make sure that everything from vehicle cleaning, detailing, and everything in car care is thoroughly organized and seamless. Bringing Express Auto Wash to life is an ongoing process of love & care, and we are confident that our service will meet and exceed your expectations.
Why Does Your Car Need a Fast Wash in Abu Dhabi?
A desert metropolis that comes across some of the greatest temperatures in the region, Abu Dhabi is also home to the largest number of vehicles registered within the UAE. According to a survey in 2015, there was 1 car behind every 2 persons in Abu Dhabi. But due to severe climate and strict ownership laws, having a car in Abu Dhabi demands proper care to ensure excellent performance of the vehicle.
A good car wash service provider is necessary for maintaining the cosmetic appeal of your car and saving countless hours of time and effort that you might otherwise spend on yourself. Sandstorms are a frequent scenario in Abu Dhabi which makes vehicles here get covered in sand and dust. This not only affects the looks of your cars but also makes their exteriors look fading, peeling, and cracking.
What Do We do?
Based in Mushirf Mall, Airport Road, Abu Dhabi, Express Auto Wash offers impeccable and quick car wash services. You can rely on our cleaning experts will provide spotless washing to your vehicle's exterior as well as interiors. We also offer a monthly washing program where you can easily bring your vehicle to our facility and get the best and fastest car wash possible.
What sets us apart?
Since 2017, Express Auto Wash is dedicated to delivering reliable car care services to all of our clients. We constantly do our best in serving our customers with the top quality products and services. This is why you can easily rely on us in providing you with a clean & hygienic facility and helpful staff that can give you a convenient car wash experience. Moreover, we also have special women's plans for the respectable ladies of Abu Dhabi.
Express Auto Wash is a family-friendly car wash service serving car owners in and around Abu Dhabi. Give your car that sparkling shine that you can only get with a professional car washing and cleaning from the best car wash in the city. Count on us to get a gentle yet efficient car washing process that won't damage your vehicle. We are focused on offering a safe, fast, and careful car wash service that is priced just right to fit your budget.
Outstanding Car Washing Services
At Express Auto Wash, we use an automatic car wash system to get your car the deep down clean it needs. We use cutting-edge American equipment and environmentally-friendly materials to give your car an effortless shine and sparkling finish. Moreover, you can enjoy each and every visit to our car wash, your service will always end with a friendly smile.
Endless Support for all Your Car Care
Express Auto Wash is the car washing service you can consider for convenient car care you wish for every time. We provide a car wash inside our facility at Mushrif Mall, where you can leave your car and get it cleaned in just 5 minutes. Unlike the rush we have, our fast & quick car service will make sure your car is out of the facility with no more waiting. Express Auto Wash has that trust that will always provide you with the best car washing service at an incredibly reasonable price point.
Get the Best, Don't Settle for Anything Less!
FAST
Our expert and trained staff ensures prompt and high-quality service, allowing you to get in and out quickly—and exceptionally clean.
SAFE
Our automatic car wash provides earth-friendly biodegradable materials, followed by a thorough high-pressure rinse. We then machine dry the body of your vehicle and all glass surfaces with superior quality micro-fiber towels to prevent streaks.
QUALITY
We provide you with the excellent experience you always desire. We offer only the highest quality cleaning solutions, with products directly imported from the USA.
AFFORDABLE
No high-pressure pitch, but a friendly smile and an exciting wave. Our monthly no wait car wash plans and detailing services are fairly priced and easy to understand.
Silver Package
6 Express Gold
30 days Validity
Single Plate Number
Min. Contract- 30 Days
Car Type- Sedan/SUV
Volcano Package
4 Express Gold
30 days Validity
Multiple Plate Number
Min. Contract- 30 Days
Car Type- Sedan/SUV
Your Reliable Fast/No Wait Car Wash in Abu Dhabi
We know you have a jam-packed daily schedule with close to no time left to get your sedan or SUV washed. At Express Auto Wash, our automatic, touchless and advanced American technology car wash can get you in and out in about 5 minutes. Or, if your car needs a little more care, stop by our Mushrif Mall facility for a detailing service.
Enjoy the full-service experience to keep your car's interior and exterior looking shiny and new. We use vehicle-safe equipment to make your cars as clean as they should be, provide a shiny polish, and send it out dry. Plus, our car care plans are priced reasonably so you don't need to worry about the car cleaning budget.