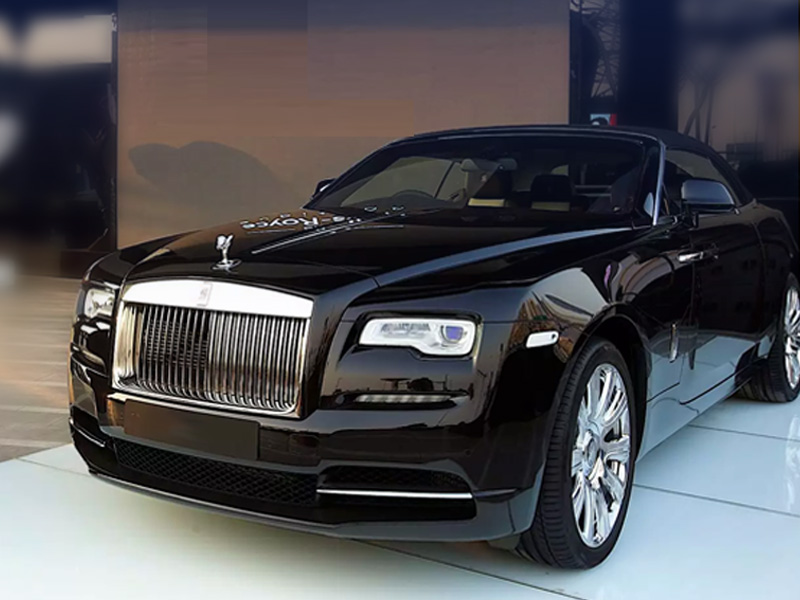 Our flagship car wash facility is located at Mushrif Mall along the airport road in the heart of Abu Dhabi. We serve sedans and SUVs for car care. Express Auto Wash offers a full line of supporting car wash services with top-notch equipment accessories, and chemicals.
We have partnered with MacNeil Wash Systems to bring to you the Rolls Royce of automatic car wash facilities not seen before in this part of the world. Yes, Express Auto Wash is a leading car wash service provider with such technology in Abu Dhabi, UAE. The technology we use, the people at our disposal, and the service that we provide will revolutionize the car wash industry in this market and set the benchmark for others to follow. Long gone are the days of waiting for up to 1 hour for your car to be washed and even then, not being satisfied with the result. You just get your car here at our facility at Mushrif Mall and get it out in just 5 minutes making it look clean and shiny.
Express Auto Wash opened its door as a car wash center in 2017. Started as a small team with a single garage at Mushrif Mall, Abu Dhabi. Our dedication, craftsmanship, and commitment to the customers helped us grow into a complete auto-garage with a variety of services to offer in car care. Today, with our expanded team of highly skilled technicians working in our facility at Mushrif Mall, Airport Road, we proudly cater to tens of thousands cars a month through our auto-services.
Our success lies in our world class facility. We have industry approved parts, and latest diagnostic equipment and tools coupled with trusted, reliable, and quality service. We take care of car wash and detailing of all major brands and we are experts in handling the car maintenance service for major car models and brands like BMW, Audio, Mercedez, Lexus, Toyota, Nissan, Mitshubishi, Ford, Lincoln, Infinity, Kia, Chevrolet, Hyundai, Renault, etc.
Why should you choose Express Auto Wash?
Our collaboration with international experts and American Technology at our facility helps us to provide better customer service as the best automatic car wash in Abu Dhabi. This enables us more efficient and accurate identification of issues in your car and provide an efficient solution in car care. We are pledged to deliver reliable diagnostics of your car wash requirements and proper measures to fix even the most complicated dirt and scratches on your vehicle.
Key features of Express Auto Wash; why our customers choose us…
We have competitive pricing for all our services
We use the latest American technology equipment
We have specially trained technicians to serve you better
We have car detailing meant to remove and hide major flaws
High Quality Customer Service by specially trained service advisors
Express Auto Wash is extremely convenient for those people who are staying in nearby areas like Hadbat Al Zaafran Sheikh Maktoum Bin Rashid Road, AlManhal International School, Abu Dhabi Police Departments Complex, Al Hattal Street, etc.
The entire car wash facility at Express Auto Wash is fully automatic, and each system can be operated entirely on its own with a little support from our expert staff. Our automatic car wash systems carefully provide a unique wash quality. We only use materials that allow a safe and complete cleaning. Environmentally friendly operations allow for an extraordinary gentle car body massage that leaves the vehicle looking brand new.
Our touch free automatic car wash is built completely with our own experts in collaboration with MacNeil Wash Systems. These systems are developed to serve vehicles up to 90" tall and 120" wide. Our touch free car wash ensures incredibly clean cars with minimal waste and no harm to the environment. Every touch free car wash provides a fast, economical, and spot-on procedure. Don't forget to check out our add-ons like vehicle detailing and polishing.
At Express Auto Wash we will raise the bar as far as exceeding your expectations, and you can expect to be in and out of our facility within 5 minutes. Our car wash facility will allow up to 6 cars to be washed simultaneously as each car travels seamlessly along the automated belt where your car will travel through various stages of the car wash cycle.
Our primary objective is to give you 100% customer satisfaction or you get your money back!
We have served over 550K Satisfied Customers.