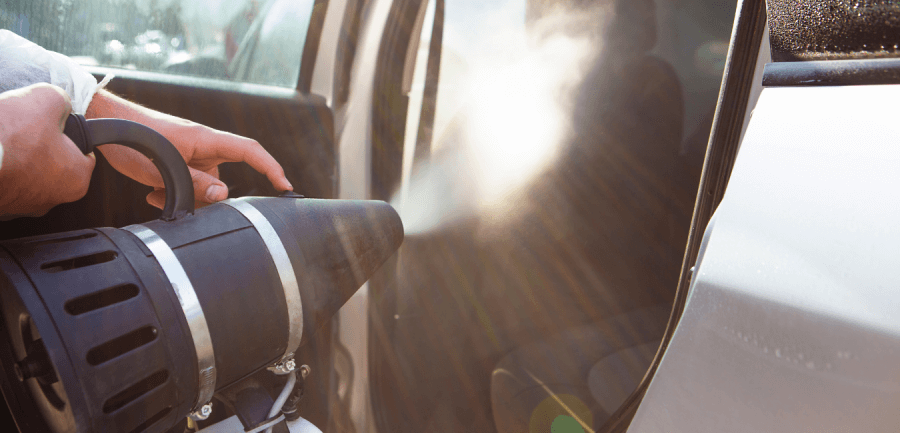 Know-How to Sanitize Your Car's Interiors
In today's post-pandemic world, hygiene and sanitization have become more critical than ever before. To this end, it is essential to note that disinfecting and sanitizing your car's interiors is as crucial as disinfecting and sanitizing your hands to keep yourself as well as your near and dear ones safe at all times. 
While disinfecting your vehicle, it is essential to sanitize all the surfaces inside that come into contact with people first and most frequently, such as door handles, window buttons, door locks, steering wheel, dashboard, seatbelts, etc.
It is also imperative to avoid cross-contamination of services and be systematic while disinfecting your car. Below are a few tips to keep in mind when sanitizing your vehicle:
Go through the process in a systematic step-by-step fashion:

Tackle the disinfection process in a properly planned manner to steer clear of cross-contamination and avoid compromising an area that you have already cleaned and sanitized. Begin from the commonly touched surfaces, including the exterior and interior door handles, gear shifter, steering wheel, sun visors, hand brake, seat adjustment levers, and seatbelt buckles. Sanitize these surfaces by giving a good wipe down with a disinfectant to neutralize any contagions. Repeat the process now and then, as these surfaces are highly prone to contamination due to daily use.

Sanitize your hands:

We know this goes without saying, but it is best to clean your hands before you start the process. Washing hands before heading out for a drive can prevent contagions from contaminating the car in the first place. Keep a box of tissues in the car and a trash bag for safe disposal. Post this, ensure that you slap on a pair of sterilized gloves.

Ensure all the supplies are within reach:

Ensure that all the supplies you will require during the process are within distance before you start. This will make your job accessible and help you finish the process faster and much more efficiently. 

Treat your car's upholstery with care:

Use a mild detergent or soap to clean the sears and upholstery. Make sure you allow the seats to dry completely. Never go for alcohol-based disinfectants or wipes on the car's interior surfaces. The alcohol can dry and prematurely age the vehicle's plastics, potentially leading them to fade, crack or even break. Instead, go for a disinfectant spray designed for plastics and automotive interiors. Fabric upholstery has its own challenges. Too much soap water can not only stain the fabric but also seep into the cushioning making matters worse. The trick is to use a lightly dampened cloth for wiping down the seats. 

Be Gentle:

Make sure to use a soft microfiber cloth to clean the interiors thoroughly while avoiding any damage or scratches. Soft washcloths and mild detergents are the way to go!

Hit those high-touch spaces:

Using your favorite automobile disinfectant and a microfiber cloth, spray and wipe all the spaces you and your passengers touch daily. Be sure to follow the instructions exactly as the product label describes, enabling the product to dwell for the specified times to kill the bacteria and virus.
Are you looking for a good car sanitization facility near you? Look no further! Express Auto Wash is all you need and more! Drive up to our flagship car wash facility located in Mushrif Mall, along the Airport Road, in the heart of Abu Dhabi today, and rest assured that your car will be disinfected thoroughly, using the best methods and technology in the industry.
Our partnership with Mac Neil has now raised the bar for professional auto services in this corner of the world. You can enjoy the Rolls Royce equivalent of car wash facilities at affordable prices that will not burn a hole in your pocket. And guess what? At Express Auto Wash, you can enjoy a premium car sanitization experience, not just at a fraction of the prices charges at their auto-wash facilities but also a fraction of the time they take!
Express Auto Wash truly is a trailblazer, setting industry standards for the rest to follow. We guarantee you 100% customer satisfaction, or you get your cash back! So you can rest easy with us.
At Express Auto Wash, both you and your car are in safe hands.